Our Services
We offer
introductory lectures, seminars, workshops and consulting
tailored to the specific needs of
general staff and executives
. Our
target groups
include all those which need to perform and communicate competently at the international level.
If you're interested in joining us for one of our seminars and workshops, be sure to also check the list of events and dates.
The main concentration of our services lies in the following areas:
Intercultural communication: Teaching and training those skills required to recognize and more accurately interpret how cultural differences affect how you communicate with others and how they communicate with you.
Advanced English Training: Teaching and training those skills which take you from merely speaking the language well to communicating effectively in an international and intercultural environment.
Our services and activities deal with the following topics which can be variously combined to meet the needs of the individual customer:
How to use English to its maximum potential as a natural intermediary language between "low context" and "high context" cultures.
The basic skills of the intercultural manager: "Don't leave home without them!"
Are intercultural communication skills a guarantee for more international sales?
When even speaking English doesn't help: The nonverbal aspects of intercultural communication.
Small talk and smiles: The miracle potion in intercultural communication.
"First work, then play": How non-success can already be a foregone conclusion.
Your greatest risk: You don't recognize communication barriers and no one tells you.
Moving to the middle: How a "low context communicator" becomes a diplomat.
Going overseas: Everyone experiences culture shock.
The live wire in your cross-cultural relations: Defusing clichés and stereotpyes.
Our formula for your future: Negotiation Skills (bring your own) + Intercultural Skills (get it from us) = Successful International Negotiations.
The business meeting: Coming full circle.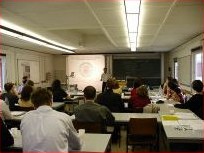 These topics can be presented in short, compact lectures, or be integrated into longer multi-part or multi-day seminars. Such seminars are very practice-oriented and provide not only necessary conceptual background information and helpful tips, but also draw heavily on both case studies as well as the personal experiences of the participants. Workshops are designed to focus on and practise very specific skills and can feature round-table discussions based on participants' analysis of personal past experiences. In addition to these services we also offer (if required, long-term) consulting to individuals, groups and companies.
We offer our lectures, in particular a condensed version, in both German and English. The seminars and workshops, however, are given in English in order to maximize communication practice in the English language. Participants should, therefore, possess a level of English that would enable them to not only follow the seminars but also to participate in discussions. Those participants who will most benefit from our courses are those who are both motivated by discussions and interested in looking at old things through new "cultural glasses".
Our services: presentations, seminars, workshops, and consulting
We tailor our seminars and workshops to your specific needs and issues. The following range of our services offers you an overview of our activities and focus. We will be happy to provide you with concrete suggestions for the contents as they apply to your needs.
Target groups
Companies:

Executives, CEOs, Managing Directors
Engineers, Project Managers, Technical Specialists
Managers in international purchasing and sales, Human Resource Managers, IT Professionals

Universities

Students of all faculties
Students of Business Administration (e.g. main subject area International Management, MBA)
Professors and University Administrative Staff
Executive MBA programmes

Others:

Trade Promoters, Managers of Chambers of Industry and Commerce
Development Aid Volunteers, Members of NGOs and cultural organisations, Language Teachers
Seminars
Seminars on intercultural communication
Levels: BASIC, ADVANCED, or COUNTRY/CULTURE/REGION-SPECIFIC
Length: Half-day or one-day
Language: English

These shorter format seminars are designed to teach a framework for understanding the cultural factors which impact such typical cross-cultural communication situations as decision-making, discussion style, conducting meetings, talking about problems, problem and conflict resolution, building professional relationships, perceptions of effective teamwork and leadership. The seminars provide an overview of the available tools and their applications for effective recognition and resolution of the classic problems encountered in this field. The intensive one-day format would permit a closer focus on applications specific to the target group.
Workshops
Workshops for intercultural communication skills training
Levels: BASIC, ADVANCED, or COUNTRY/CULTURE/REGION-SPECIFIC
Length: one to three days
Language: English

Workshops build on our seminar contents and combine them with the active training of cross-cultural problem-solving skills using case studies, simulations, and group work. The very practice- and participant-oriented approach also draws on the specific issues from the participants' professional field, and aims to provide new alternative solutions to old problems.


Culture-specific programmes
Seminars and workshops on intercultural communication
Length: One to three days
Language: English

Our general introductory seminar can be adapted with a culture-specific focus for special target groups. Such special seminars, with their more intense focus, are normally conducted in workshop format, enabling participants to become more familiar and secure in recognising culture-specific communication barriers, understanding their source, and developing both preventive and effective problem-solving skills. We focus especially on the cultural clusters of North and South America, Northern and Southern Europe, and East Asia, and how they relate to one another. Especially of interest for business customers is that we cover the entire spectrum of economically important regions of Northern Europe-North America-East Asia, which is also where our own multicultural background lies. These workshops can also be extended to include a more intensive English language skills training component for professional applications.


Seminars and Workshop Contents
BASIC

These modules can be integrated into both the seminar and workshop formats:



The two basic communication paradigms (standard)
The Cultural Onion - a model and tool for understanding intercultural communication problems (standard)
The five basic core cultural values orientations: fact- vs. relationship-based communication, hierarchy, attitude toward risk, individualism vs. group orientation, attitudes to time (standard)

Language: English as an intercultural communication tool (optional)
Culture shock (optional)
Simulation activity, practising cross-cultural meeting, relationship-building and negotiating (optional)

ADVANCED

These modules (all optional) can be integrated into both the seminar and workshop formats, and build on the knowledge base and skills introduced in the BASIC Seminars and Workshops:



Conflict Resolution in Cross-cultural Contexts
Cross-cultural Negotiation
Making Presentations for International Audiences

Multicultural Team-building
Leadership Skills Training
Advanced English Language Skills for Cross-cultural Conflict Resolution and Negotiation

Each of these modules can be combined with standard modules in the BASIC programme in the one-day workshop format for specific applications and skills training.


COUNTRY/CULTURE/REGION-SPECIFIC

These Seminars/Workshops are designed as stand-alone events. Modules from both the BASIC and ADVANCED programmes can be combined to tailor the focus of a seminar or workshop to the selected culture(s).

Specific culture and country focus:

Germany
Canada
U.S.A.
Great Britain
Japan
Korea
China
Mexico

Specific "Cultural Clusters" focus:

North Europe - North America
North Europe - North America - East Asia
North America - South America
North America - East Asia
North Europe - South Europe
North Europe - South Europe - East Asia
Other combinations upon request
Individual Coaching
Executive Personnel

Individual coaching enables an intensive training in intercultural communication, with a focus on identifying and resolving cross-cultural conflicts in international business contexts. Also, coaching is given in how to use advanced English language and intercultural communication skills in typical professional applications of the executive, such as making speeches and public speaking, conducting negotiations, resolving conflicts, formulating persuasive argumentation, developing cross-cultural leadership skills, effective multicultural team-building, etc.
Consulting
In-house Consulting

Combining our specialist competence and years of experience in the field, we consult with companies and organisations in the areas of cultural diversity conflict management, training of employees and executive management personnel for international assignments, human resource management in companies with multinational work forces, training of company-own trainers, etc.
Presentations
Introductory seminars on intercultural communication
Length: 30 minutes to 2 hours

As a feature seminar or within a larger program, these introduce what intercultural communication is, the main issues involved, their applications for a given professional field, and an overview of the practical tools available for managing cross-cultural misunderstanding. The aim of these very brief features is to provoke awareness for an essential international business skill by providing target group-relevant examples and applications. Length: 30 minutes to 2 hours.