Welcome to our website!
On this and the following pages we'd like to introduce ourselves and our services. We offer
introductory lectures, as well as seminars, workshops, and personalized in-house consulting
tailored specifically to your needs and objectives in the area of
Intercultural Communication
Interpersonal / Intergroup Skills
Advanced English Language Training
We are:
A communications trainer (Canadian native speaker of English with multicultural background) with over 10 years of freelance experience in English language teaching and intercultural communication consulting.
An engineer and manager who, in his daily work in an international environment, has gathered over the years invaluable experience and insight into the practical aspects of intercultural communication.
Our customers include numerous well-known companies and organizations, ranging from medium-sized businesses to "global players".
In addition, we offer our seminars and workshops not only directly to customers, but also work together with several partners in Germany and abroad.
Our innovative concept, developed over the years to teach essential communication competence and skills, has consistently proven to be successful with our customers. Our unique approach helps you to master a range of practical problems, from providing answers to typical questions to solving customer-specific issues.
If you should have any further questions after visiting our website, please let us know by phone or e-mail. We look forward to hearing from you!
If you are still unsure as to whether you belong to our target groups, don't worry, we think you'll fit in somewhere in these groups:
Companies which would like to improve their contacts to foreign partners.
Any member of a company, from the receptionist to the CEO, who would like to improve his or her English communication skills.
German companies with offices abroad or plans to establish offices abroad, who would like to improve the effectiveness of their collaboration with foreign colleagues and customers.
Foreign companies based in Germany faced with the same challenge.
Companies with a multicultural workforce.
Companies whose daily and diverse business depends on the smooth and competent interpersonal and/or intergroup communication skills of their staff.
Employees and managers preparing for a short or longer term stay abroad who will require effective intercultural communication skills.
Anyone who would like to competently, skillfully and self-confidently communicate with people from other countries and cultures!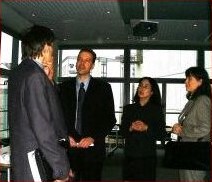 Please note that though we have so far mostly referred to companies, our full range of services are just as adaptable to organizations within the academic field. The acquirement of "soft skills" in this sector cannot be underestimated, especially as it is now acknowledged to be an equally decisive tool in achieving success in a globalized environment.
Many non-commercial institutions and organizations meanwhile also understand that they have many objectives and needs not much different from those of commercial companies. International contacts necessitate intercultural understanding and awareness, and this will determine how successful or unsuccessful any relationship will be, be it between individuals at a cocktail party, the negotiation table, or an academic seminar.